Teachers of the Year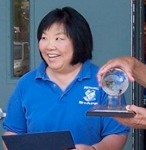 Sue Bertram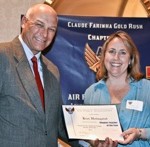 Jean Holmquist
The Chapter recognizes outstanding (grades K- 12) teachers from the local Sacramento area and recognizes teachers who have continually demonstrated teaching accomplishments and instructing students in Science, Technology, Engineering and Mathematics.
Chapter 116 selected two 2011 Teacher of the Year in March 2010 and the teachers were formally recognized in the April awards banquet. The chapter winner was also the winner of additional recognition and award money at the State of California Air force Association's Banquet in June at Vandenberg AFB.
Each school principal should select their teacher of the year that may qualify for the award, work with them now to insure they meet all the necessary requirements and assist them in submitting the application. To learn more about the chapter's Teacher of the Year program, please click on the Teacher of the Year letter and complete the Teacher of the Year application.
For additional information, contact Richard Taubinger.
2016 Teacher of the Year Application – click here
2016 Teacher of the Year nominations must be mailed by 24 March 2016 to:
AFA Chapter 116, PO Box 2326, Citrus Heights CA 95610
Below are civilian and military award winners from 2010 at Sacramento local and California State Awards Ceremonies. These awards were not only to individuals but to organizations and recognized by the California State AFA as well as the National Air Force Association at the National Convention in WaDC.