2019 AFA Scholarship Awards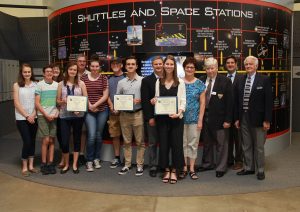 (Click to enlarge)
The AFA Chapter 116 presented five students with monetary awards for the coming 2019 Fall College semester. A total of $10,000 was distributed among the students with the generosity of SAFE Credit Union.
From the IVY League to local colleges, these students have assistance with tuition, books, materials, and fees associated with their schools.
Pictured are three of the five students with their families, SAFE, and AFA officers at the awards ceremony in June 2019, at the Aerospace Museum of California in North Highlands.
Notice of the planned awards for the Fall 2020 can be located under the Education heading at this website.
---
Teachers of the Year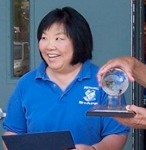 Sue Bertram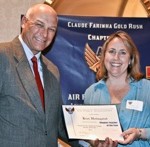 Jean Holmquist
The Chapter recognizes outstanding (grades K- 12) teachers from the local Sacramento area and recognizes teachers who have continually demonstrated teaching accomplishments and instructing students in Science, Technology, Engineering and Mathematics.
Chapter 116 selected two 2011 Teacher of the Year in March 2010 and the teachers were formally recognized in the April awards banquet. The chapter winner was also the winner of additional recognition and award money at the State of California Air force Association's Banquet in June at Vandenberg AFB.
Each school principal should select their teacher of the year that may qualify for the award, work with them now to insure they meet all the necessary requirements and assist them in submitting the application. To learn more about the chapter's Teacher of the Year program, please click on the Teacher of the Year letter and complete the Teacher of the Year application.
For additional information, contact Ray Coughlin.
For more information and a Teacher of the Year Application – See our Teacher of the Year page